Back in 1952, when I was a school boy in Canberra, Australia, a raging bush-fire swept in from the south west burning all in its path. The fire burned over Red Hill and was eventually stopped at the fence lines of the residential and foreign embassy homes lining Mugga Way.
Our gang won the Radio Station 2CA bush fire donations appeal competition, thanks to a 5 pound check from the Dutch Embassy, which unfortunately lost its rear fence.
In 2003, again, a raging bush-fire swept in from the south west. However thousands of houses and other buildings had been built in suburbs south west of Red Hill in the path of the fire front. 500 buildings burned to the ground and 4 deaths recorded.
The bush needs fire for regeneration and fire paths repeat over previous paths. (Has been going on for thousands of years).
Early ACT building regulations insisted on a layer of tar paper be installed under the floor boards, in the wall cavities and under the roof tiles to limit condensation. (Tar paper consists of a thin layer of bitumen between two layers of brown paper). I physically fixed this tar paper during my days as a carpenter.
According to CSIRO fire research, when the temperature reaches 47.7 degrees C, the oil in eucalyptus leaves turns to flammable gas, and bitumen turns to flammable gas. So when fire surrounded the above houses the tar paper immediately burned causing the structures to explode. If you study TV footage of the Canberra 2003 fire you will see blue flames licking out from the gaps between the roof tiles. These are the flames of hydrocarbons, not burning leaves and small tree branches which burn red and yellow.
The only building material which remained in tact were the concrete paths, steps and posts.
Lately I have been researching the thousands of fire photographs of the recent, and current, bush fire damage to houses and buildings. I visited some of the sites when the King's Highway reopened for access to the NSW south coast.
Most of the burned structures I investigated were older buildings and would have been lined with tar paper, a building regulation at the time of construction.
I think you can apply the same reasoning to all the other bush fire damaged regions.
Tar paper was later banned from construction regulations yet there are still thousands of older houses and other buildings containing this material still standing.
LESSON LEARNED. DON'T BUILD HOUSES USING FLAMMABLE OR NON FIRE-PROOF BUILDING MATERIALS.
In the mid nineties I was licensing The Unibuild Technology into the USA and based in San Diego, California. (Many gum trees grow in California).
One morning I visited a local shopping centre and noticed a small grass fire burning in an open field opposite. That evening the fire spread up a hill and burned down over 500 houses.
The developer of this sub division had a covenant on the house designs. All roofs were to be of Californian redwood shingles. A shingle in northern California has a moisture content above 95%. In southern California the moisture content reduces to about 3%. Thus all the roofs were reduced to firewood kindling.
The only building materials which remained in tact were the concrete paths, steps, posts and the ornamental masonry and concrete fireplace constructions. Concrete does not burn.
LESSON LEARNED. DON'T BUILD HOUSES USING FLAMMABLE OR NON FIRE-PROOF BUILDING MATERIALS.
Back in the 1970's Unibuild began research into steel fibre reinforced concrete and gradually began using this material in its housing and other building projects, eliminating most traditional flammable building products and associated fixing trades.
Today, all Unibuild structural components for floors, walls, roof and other items are made from steel fibre reinforced concrete, either in solid form or encasing insulation slabs inserted to comply with building R value regulations. Thus the whole building structure is fire proof with a minimum fire rating of two hours, and six hours for the in-built columns and beams.
Bush-fires sweep through in a matter of minutes, and as concrete does not burn the fires cannot find any material in Unibuild structures to ignite and flame. (As a spin off, there is no need to pay exorbitant fire insurance premiums which rise and rise after every national disaster).
PHOTO. The Unibuild fire-proof display house, Canberra.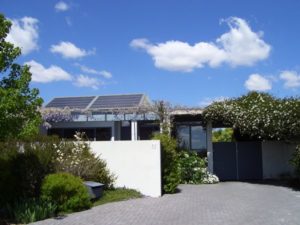 PHOTO. Internal photos and commentary. (UB5710-Photo2)
PLAN. Plans of fire and energy ratings. (UB5710-Plan)
THE UNIBUILD CLIENT DESIGN SHEET 1 (Client Design Sheet 01)
THE UNIBUILD CLIENT DESIGN SHEET 2 (Client Design Sheet 02)